I read a book today, which was my first in about a month or two. What with the hubbub of the last few weeks, I really haven't had time for reading. Also, I have been on the wait list for "The Help" at the public library, hoping that my name will come up soon. (I am really thinking about just buying the book already, because I don't think I can hold out much longer. Merry Christmas to me, I suppose.) Furthermore, my list of books that I want to read is becoming increasingly shorter, and I had no idea of where to go from there. (Suggestions, anyone???)
I digress. The book I read had a bit of sentimentality to me, mostly for the fact that it was written by a cousin of mine, Melissa. Truth be told, I really didn't know that my cousin was even considering writing a book, as she lives in Tampa, FL, and our families don't correspond very much or very often. I found out about her book when Gina randomly added her on Facebook. I happened to see that they were friends on there, so I checked out her page and added her. While reading some of Melissa's posts, I saw then and there that she had just published a book! I am so proud of my cousin for her accomplishment, and the fact that she has brought honor to the family name. (I have many cousins who have not necessarily lived lives of model citizens...)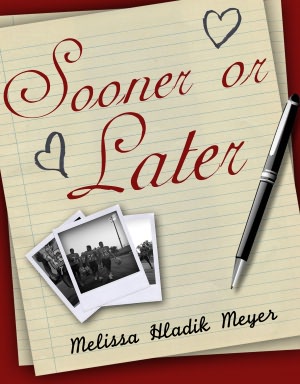 The book is entitled "Sooner or Later" by Melissa Hladik Meyer. It is a fictional story of a Chicago magazine writer, Patricia Jordan, who is forced to return to her small Oklahoma hometown to write an article about the town's star football player, all while trying to avoid her long-lost high school sweetheart. Melissa did a nice job of creating the scenes, both in Chicago and in Oklahoma. (Melissa used to live in a Chicago suburb, by the way.) Through the book, she accurately depicts everyday details of life in rural Oklahoma. The characters were believable, from Patricia's critical, but ultimately loving mother, all of the usual small-town characters (family friends, random relatives), but mostly, Patricia herself. Patricia's character is a single woman in her mid-thirties who left her slow-paced Oklahoma roots to seek a high-powered career as a Chicago journalist. She has many hang-ups about relationships after being burned in most every relationship she has been in, stemming back to her teenage heartbreak.
The plot moves smoothly, with a few twists that take you by surprise, and add to the overall story. All in all, I had a hard time setting the book down, because just when I thought that I would be at a stopping point, there would be a cliffhanger between chapters that kept me hanging on for a few more chapters until I ultimately finished the book.
One thing about this book, which is really only important for people like me, who are not that technologically advanced, is that it is only available for digital download on the Kindle, and I think on the Nook. (Unless you happen to live in eastern Oklahoma, near Melissa's hometown of Checotah, where she had three paper copies published for their library system.) With that being said, I had to resort to borrowing Emily's Kindle to read it, which was no problem with Emily, thank goodness. My only real caveat about this book, is that it contains a moderate amount of coarse language, so, if that is not your cup of tea, you might not care so much for this book. Otherwise, I would definitely recommend it as a fun weekend read!
Two thumbs up to Melissa, and I cannot wait to read your future books! Keep them coming! :)